What a grand time we had on our short, but sweet trip down to the mid-Atlantic. After picking up Patti in Montpelier, VT at the end of a mid day gig, we headed down to Brackney, PA and got there with plenty of time (ten or so minutes) to get our land legs and play a lovely house concert for some very enthusiastic new friends. Trudy and Ed were wonderful hosts and have a great house with lots of stories attached. And of course, they had  dogs.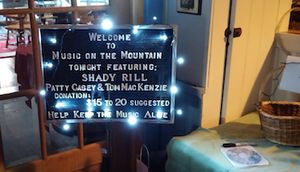 Our name in lights
Trudy & Ed
   An early start the next morning in order to get down to Saint Mary's City, MD for a late afternoon show. We had hoped to have some of that "sweet sunny south" weather but it wasn't meant to be. We had a small, but mighty crowd, due to the impending snow storm forecast. We did though get to perform again in the old statehouse, a beautifully recreated building of the original state house at historic Saint Mary's City. If you haven't had the chance, I highly recommend a trip down for a taste of history.
Here
is some more information.

Replica of the Original MD State House

 
   The forecast for snow was a good one, and we awoke to around six inches of the white on the ground. Luckily, we had nowhere that we had to be, and thanks to Mike & Geraldine, we had a great place to spend some down time and do nothing. We did take a couple of tours during the next couple of days, and thanks to Captain Will, we were introduced to some previously undiscovered areas of the settlement. It seems like every time we visit there is something new to see and we are treated like family with lots of wining and dining. Thanks to all of you!!!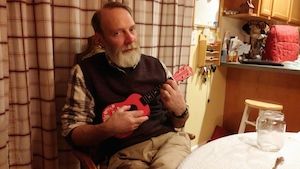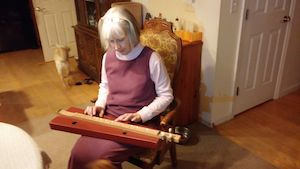 Captain Will  (insert your own caption)                                                                                                                         Tara on the lap dulcimer
   Part two will follow as we travel up to the Philly area then head down to NC for some warmth.